Custom Mascara Boxes – How Brands Should Design Them to Add Value to The Brand?
By Blake Harper,
Feb 16, 2023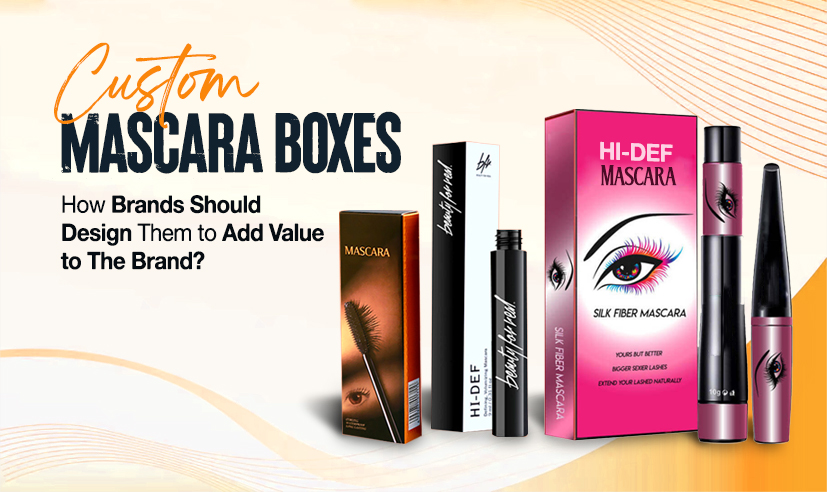 Mascaras are the most important beauty product that accentuates the overall look of the makeup. It makes your eyes look glamorous and bigger. Different types of products are available in the market, but customers prefer the one that looks classy and high-end. For this reason, a lot of brands try their best to differentiate themselves from others in the marketplace.
Making your product seem better than it already does is the whole point of having it packaged in a unique way. It's the best technique to convince customers to choose your brand over others. Your product's packaging is an opportunity to showcase your brand, provide product details, and highlight its benefits. When it comes to the presentation and design of product packaging, many cosmetics companies just don't care. Companies spend tens of thousands on product development in order to ensure that their goods are cutting-edge and of the highest quality. But now more than ever, you need more than just a great product to succeed in the market. You can't create an impression without attractive packaging boxes.
How Do Custom Mascara Boxes Add a Value Factor?
Women love applying mascaras even when they are not wearing any other cosmetic product. That's why the mascara box itself is a thing of beauty and importance. Since your eyelashes are among the most delicate facial features, applying mascara on them might irritate them. Buyers must have complete peace of mind that it won't do them any damage. Therefore, they choose the most sophisticated packaging to get superior products.
Customers who only want the finest products should only purchase those that come in the most aesthetically pleasing Custom Mascara Boxes. It's because the cosmetics industry is saturated with options. Each brand offers a somewhat different selection of mascaras, and it's up to you to choose the one that works best for you. Customers are swayed to make a purchase if they find that the packaging is unique, eye-catching, and of the finest quality. The reason being an item of such high quality must surely be inside perfect. If the mascara is going to wow its customers, it's up to the packaging to spread its spell.
Many companies have come to realize the need of providing customers with the most secure means of receiving their purchased products. It is possible with the use of the right packaging. There will be no potential threats or unfavorable influences from the outside world that might damage the product. Mascaras have a fluid viscosity that's why they are kept inside a box since this allows the temperature to be controlled. Custom mascara boxes are designed to fit the product perfectly, ensuring the consistency and longevity of the product throughout time.
We have compiled a list of tips to help you create the ideal packaging for your mascara products:
Create Attractive Packaging to Entice Buyers
Customers are the ones you'll be selling to; therefore, it only makes sense that the package should be designed keeping them in mind. Many designers neglect to consider their intended market while creating mascara boxes. The greatest blunder that leads to failure. Contemplate who you want to buy from you. When picking out their new favorite mascara, what do they look for in the packaging? Find out where they're feeling the most discomfort. Customer satisfaction should be your first priority. Creative packaging solutions are the key to accomplishing all of this.
Incorporate All the Relevant Information
Customers pay attention to the information provided on the packaging of cosmetic products. Offering vague descriptions won't persuade buyers to buy your goods. Use custom mascara boxes to provide extensive product information to potential buyers. Be sure to cover everything from the product's components to its advantages. Customers will surely love and trust your products. Make your customers aware of reading all the labels mentioned on the packaging boxes. If any details are left out, sales will suffer.
Select Colors, Fonts, And Themes Meticulously
Packaging design heavily relies on color and typeface choice. Adding these two touches to your package will make it seem better and attract more customers. The colors you choose should both enhance your product and reflect the personality of your brand. When designing a mascara box, muted tones are preferred. Pick out distinctive and easily legible typefaces. In terms of packaging design, two or three colors are sufficient. The readability of your work will improve if you use just one or two typefaces throughout.
Stay Honest with Your Customers
The contents of the box should correspond to the image shown there. You will lose patronage if you engage in dishonest dealings with them. In an effort to increase their customer base, some companies lie about their products. However, you can only use this approach once. In the event that customers learn the truth, the resulting fallout would be devastating for businesses. The material and style of mascara boxes should go hand in hand with the contents.
Design Packaging as Per Your Product's Size
Why is it important to have a unique packaging strategy? In fact, its purpose is to snugly encase and attractively display the object. Therefore, it is critical to creating a method that functions flawlessly with your product. Every aspect of the product, from its form to its dimensions to its composition, must be just right. The packaging should also be simple to open, use, and close back up again. Do you want to pack more than one item? Think about using multi-product mascara boxes with convenient carry straps. Companies who are selling high-end cosmetics should put some thought into the packaging to attract a wider audience.
Be Sure All of Your Mascara Boxes Are Compatible
The main function of custom mascara boxes is to store and present the product. But there's more to product packaging than that. You'll need an answer that can satisfy everyone. Packaging that may be used in stores as well as online is preferable. The packaging must be both visually attractive and sturdy enough to survive the journey to the buyer. Always think about more than one use when designing packaging.
Uncomplicated and Minimalistic Designs and Patterns
It's a standard that holds true no matter where you are or what you're peddling. Nowadays, the minimalist style is the most popular in the beauty sector. The time for intricate and laborious construction is over. Customers are drawn to the products because of their intuitive layouts. You can get your message across more effectively and be noticed with minimal custom printed mascara boxes. If there are too many visual distractions, customers may get disoriented. You can create a big impression with only one or two colors, your logo, and a few phrases.
Easy to Store Mascara Packaging Boxes
To alleviate space constraints, merchants prioritize designs that allow for easy stacking. Containers with unusual shapes are a pain to store. The less likely it is that a customer would purchase products that are even difficult for personnel to stack. When creating your mascara boxes, keep the customer's time and energy in mind. Better solutions can be designed with the product presentation in mind. The sales staff's workload will lighten up, and your products will be put on the shelves first.
Recyclable and Reusable Mascara Packaging Boxes
Customers have a lot of worries, and sustainability is a major one. They reject any company that has an unfavorable effect on the planet. The necessity of a sustainable approach cannot be understated in the modern business world. Custom mascara boxes should be made of something recyclable and reusable at all times. Reduce the environmental impact of manufacturing by optimizing your methods. Using sustainable or eco-friendly materials, such as recycled paper or biodegradable plastics, to create one-of-a-kind mascara boxes may help a company lessen its impact on the environment and win over environmentally sensitive customers.
Why These Boxes Are Highly Demanded?
Custom Mascara Boxes are highly demanded in the market because they offer a range of benefits for cosmetic brands, from enhancing the brand image and increasing sales to improving product safety and customer satisfaction. Here are some of the key benefits of using custom mascara boxes:
Brand Recognition: Mascara boxes can be designed to include the brand's logo, colors, and messaging, making them instantly recognizable and memorable to customers. This can help to enhance brand recognition and increase brand loyalty over time.
Improved Shelf Appeal: Customized boxes are designed to be eye-catching and visually appealing, making them stand out on store shelves and attracting the attention of potential customers. This can help to increase sales and drive revenue for the brand.
Product Protection: These boxes provide optimal protection for the mascara tube, ensuring that the product remains safe and secure during shipping and handling. This can help to reduce product damage and waste and improve customer satisfaction.
Differentiation: Custom Mascara Boxes can differentiate your brand's product from others on the market. This can be achieved through unique packaging shapes, materials, or finishes that set the brand apart and create a memorable brand experience for customers.
Summing Up Custom Mascara Boxes can offer a range of benefits for cosmetic brands, from enhancing brand recognition and increasing sales to improving product safety and environmental sustainability. By investing in high-quality custom packaging, cosmetic brands can create a memorable brand experience for customers and
Recent Comments
---