Benefits of Using Custom Cookies Boxes and How They Can Upsurge Brands Profitability
By Blake Harper,
Jan 06, 2023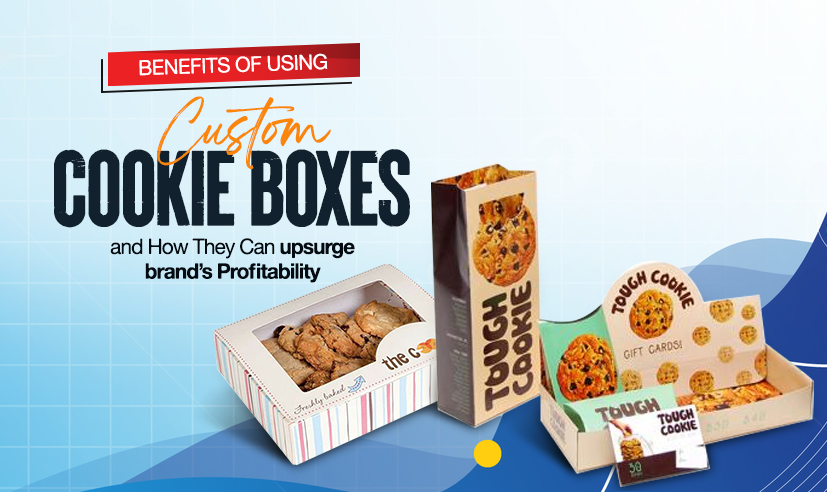 Are you a sweet lover? Do you like eating bakery items? If Yes, then you must have tried cookies. What's your favorite flavor? They come in a wide variety of flavors and the most popular ones are, chocolate, vanilla, peanut butter, hazelnut, and many more. People like eating cookies of their favorite flavor from their favorite bakery. On the other hand, a lot of people love trying cookies from various brands but what attracts them towards a specific brand? It's obviously the packaging! No one likes boring and bland packaging boxes that look unhygienic. That's why renowned bakeries such as Tartine Bakery, Muddy's Bake Shop, Sugar Bakeshop, City Bakery, Bouchon Bakery, Boudin Bakery, and many more are using custom cookies boxes to attract a large number of cookie lovers towards them. These boxes are extremely beneficial for brands. In addition to keeping your cookies safe from external settings, they also meet all of the branding criteria. Moreover, they will be noticed and admired by those who view them!
Since cookies are so popular, many companies are working to improve their standing in the market by producing and selling tasty cookies. Brands have a tough time standing out in a market with so much competition. However, personalized cookie boxes can improve a bakery's bottom line by providing features that are not accessible in any other kind of packaging box. Listed below are some advantages of using custom cookies boxes as a unique packaging strategy. Keep reading if you want to find out more!
Visually Artistic Presentation
Product packaging is the first thing buyers take note of. The presentation of a product in a box may greatly improve its perceived value. If custom cookies boxes don't look decent, the whole effect will be ruined. Uniqueness and high-quality is delivered to customers using personalized cookie boxes. They may be designed in any manner the company desires. These containers have a classy appearance with the right design that grabs attention. Customers are more inclined to purchase cookies that are packaged in personalized cookie boxes because of their unique designs and patterns.
Addition of Stickers & Labels Attracts the Audience
Without any special touches, a package of cookies is just another ordinary box. The usage of ordinary packaging is not acceptable, however, if you do not have much leeway in terms of personalizing the package. Stickers are great for transforming a boring box into an incredible looking one. Putting your company's name and brand on generic packaging is one option. Stickers for decorating the container's outside or lid are included. Furthermore, it is not necessary to use stickers with the same design as the cookies. Personalized stickers are wonderful since they can be made in any size or form for any event at a low cost.
Perfectly Boxes for All Occasions
Custom cookie boxes are the most important part of any occasion or event. You can't have a proper Christmas or Wedding without them. Using occasion-based themes, you may design cookie boxes that fit every celebration. As a bakery business, you should make sure that the wholesale customized cookie boxes you are getting are suitable for the event. A cookie box with your name on it will do the trick. These containers are not only more aesthetically pleasing, but they also stack more neatly on the table, which might lead to more foot traffic. You may give your packaging firm a specific color and your style and pattern preferences, and they'll use them to create a design that fits your needs. You can add attractive finishing and coating that makes your product look valuable.
Great to Display Different Deals & Offers
Brands can bring in incredible bargains and offers by printing them on custom cookies boxes. Brands may acquire these boxes in special designs and in whatever size they need because of the huge variety of styles and sizes available. Brands may advertise sales by taking use of this function of bespoke cookie boxes. Bakeries might choose the perfect package for their needs from a variety of available options, including box sizes and dimensions. Depending on their needs, customers can go for any cookie box either small, medium, or large. As more people start using the products, businesses may make more money because of the offers they bring on board.
Excellent Marketing Tactic
With proper marketing, a product can reach its full potential. Brands may either flourish or perish, it's all about how you market your product. As a result of marketing, the company is able to present its product in the most favorable light, which in turn attracts more buyers. Similarly, the brand rivalry is fierce, necessitating distinctive marketing approaches from bakeries if they want to succeed. The use of branded cookie packaging is a brilliant promotional tool that can catapult a company to new heights. Companies may put their own spin on these boxes to make them stand out on store shelves. With custom cookies boxes, companies can use whatever color palette they choose to create eye-catching designs that will make their products stand out in a crowded marketplace.
Custom Cookies Boxes Would Never Offer a Boring Vibe
Probably the greatest advantage of personalized cookie boxes is that your intended audience will never grow tired of them. All of these choices are one-of-a-kind and made specifically for each of your customers. They will be delighted to have something tailored specially for them. Most importantly, you can make modifications to the look and feel anytime you see fit. Simply said, it is the greatest advantage of unique customization. The modifications include new box designs and other types and styles of packaging. The tones and hues you choose will also be crucial. Let's test out how choosing a solid color scheme will affect your demographic.
Sturdy, Reliable, And Durable
There should be no breaking of cookies in transit, and they should maintain their crunchiness for as long as possible in the box so that consumers may snack on them whenever they choose. Crustiness is an important aspect of cookies, and if they become too mushy, the consumer experience suffers. Customized cookie boxes are sturdy and will last a long time. The cookies are safe from crumbling and sogginess. Using these containers, bakeries may give their cookies a longer shelf life, gaining the favor of customers and boosting the business's reputation.
Biodegradable & Sustainable Cookies Packaging Boxes
When consumers are done with the cookies, the empty boxes are thrown away, contributing to garbage piles and, if they aren't biodegradable, potentially harming Earth's ecosystems. Customers value eco-friendly products because of the growing concern for the environment. In addition to being aesthetically pleasing, personalized cookies boxes are eco-friendly, giving companies even more incentive to switch. Since they are fabricated from recyclable materials, they pose no threat to the environment and may contribute to the elimination of waste pollution. A company's good name may extend further with the assistance of bespoke cookie boxes and eco-friendly customer experiences.
Upsurges The Overall Consumer Experience
Every business should make the customer their first priority. Companies are always testing new methods of consumer engagement in an effort to increase sales and improve brand loyalty. Customers are treated to something really unique with bespoke cookie gift boxes. These boxes may be customized by the brand to fit the event, holiday, or special occasion. Thanks to its adaptability, marketers may provide customers with an exceptional creative experience when they unbox their products. With the use of these boxes, companies are able to improve the quality of their interactions with customers across the board, ultimately leading to a larger consumer base.
Top-Notch Brand Image to Set Your Company Apart from The Rest
The success of a bakery business depends heavily on the public perception of it. High levels of competition highlight the need for a trustworthy and reliable brand image for bakeries. Boxes for cookies are customized so that the company's name, contact information, and physical location are all shown prominently. These boxes may be personalized for each business with its own distinct concept, which ultimately comes to represent that brand.
Custom Cookies Boxes with Logos for Authentic Marketing
Having unique packaging can do wonders for your company's exposure and name recognition. In general, when people see something they like, they desire it. Make an effort to personalize a cookie box with photos or logos that symbolize what you do as a business if you want more people to learn about you or buy from you again. Moreover, the customer always cares about the packaging more than cookies so it would be beneficial to add eye-capturing photographs and designs.
Custom Cookies Boxes – A Perfect Way of Spreading Brand Awareness Customization is always beneficial in order to spread brand awareness and increasing sales. To spread the brand's message, businesses of all sizes take advantage of this branding opportunity. That's why it's become usual for eateries to sell cookies and other sweets in specially designed packaging. Thus, customization is a one-of-a-kind and easily accessible potential for businesses looking to differentiate themselves in the market or grow.
Recent Comments
---