Elevate Sales Through Marketing by Using Custom Macaron Boxes
By Blake Harper,
Jul 19, 2023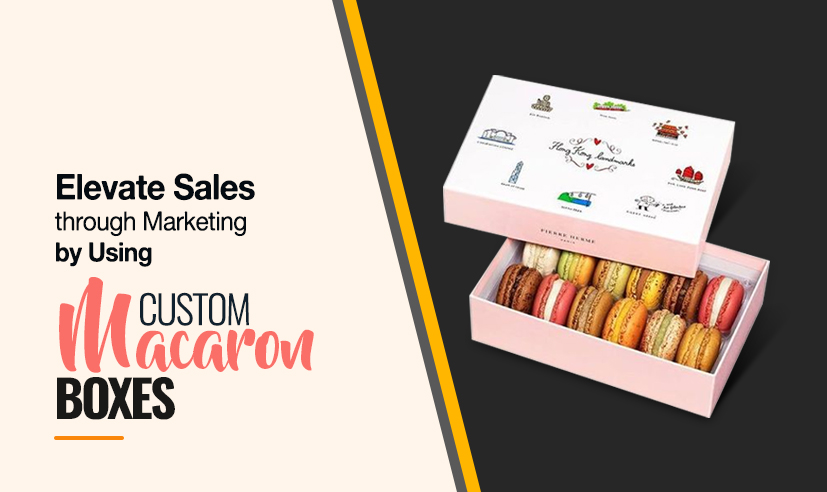 Macarons are very delicious colorful cookies that are filled with colorful mouthwatering cream. It is considered a bakery product because it is made using different bakery items, some of the ingredients are; almond flour, eggs, milk, butter, sugar, and different food colors. Since macarons are available in many different flavors, the ingredients also depend on the flavors, for example; chocolate chips macarons also have coco powder and small chocolate chips and they are in brown. There are many different flavors of macarons, some of these flavors are; dark chocolate macarons, lemon macarons, hazelnut macarons, chocolate chip macarons, caramel macarons, coconut macarons, etc. People can get their favorite flavor macarons from any bakery of their choice as they are available at almost all bakeries.
Since people love to eat macarons along with tea or coffee, macarons are also available at different café. Because of the high demand for macarons among customers, the competition between the café and bakeries is quite high and every baker is trying to deliver a unique experience to their customers to gain more market share. There are many famous bakeries and café that serve delicious macarons and some of these are; Laduree, Pierre Herme, Hugo & Victor, Cyrill Lignac, etc., and the list of these macarons brands is quite long. The food industry is one the biggest industry, it's a trillion-dollar industry, and bakeries, and café are part of this industry. When it comes to the bakery share in this industry, it is around 415 billion dollars and it is projected to cross 570 billion dollars in upcoming years.
Because of the high competition as the industry is worth billions of dollars, bakeries try different tactics to gain more market share. Marketing is the backbone of every business and it is one of the finest ways to increase the sales of macarons for bakeries and marketing is delivered by these bakeries using different techniques. Bakeries can use packaging for marketing purposes because without a doubt, the packaging is the first thing that any customer sees and if the packaging of macarons is attractive, customers are more likely to buy macarons the same packaging can also be used for marketing too. When it comes to packaging that can deliver amazing benefits to bakeries and café, custom macaron boxes are the perfect packaging solution. These macaron boxes are highly customizable that can be used for marketing in different ways and the features of these macaron boxes can help the bakeries to increase their sales.
Custom Design
Custom design of the packaging can be used as a marketing tactic because the custom design of packaging also fascinates the customers. Custom design packaging for macarons is not possible with the standard packaging because standard packaging is very boring and does not offer any features so brands need something that can be customized in different ways. And for this purpose, bakeries can rely on these macaron boxes because of their unique features. By using these macaron boxes for macarons, bakeries can get them in different colors and also can print different design elements on them. Since macarons are colorful, so bakeries can come up with colorful macaron boxes based on macaron colors and can showcase them uniquely. This approach of designing macaron boxes can be used to market the bakery and its delicious macarons so bakeries are able to gain more customers.
Grow Social Media
Social media plays a very vital role nowadays in brand popularity. There are billions of active users on social media and by using social media effectively, bakeries can grow their business. But for this, they need to grow their social media accounts and they can grow these accounts using these macaron boxes. These macaron boxes are printable and allow any type of text, or icons, to be printed. Bakeries can use this printable feature of these macaron boxes to grow their business. They can print their social media accounts on these macaron boxes and ask their customers to follow them there. By doing this, they will be able to increase their followers which can bring more revenue to the bakery and it is really good for the business.
Efficacious Marketing
Without a doubt, marketing is the backbone of every business and when it comes to bakeries since the competition is high because of macarons, bakeries can also use marketing to grow their business. Bakeries can run different marketing campaigns based on macarons but if the marketing campaign is not attractive or unique, customers are more likely to ignore it. So it is very important that the marketing campaign must be attractive, and eye-catching so customers can get attracted to it. To make the marketing campaign attractive, bakeries use these macaron boxes for these boxes are highly customizable. Bakeries can design these macaron boxes in different ways using attractive artwork to deliver a unique look. Bakeries can use their creativity to make the artwork of different macaron flavors unique and print them on these macaron boxes. This will help to make the marketing campaign very attractive and bakeries will be able to showcase macarons unique which can bring new customers on board.
Custom Sizes
Custom-size packaging is very important when it comes to bakery items because bakery items are of different sizes and styles. But in the case of macarons, macarons are in similar sizes but still, bakeries need custom-size packaging for it and they rely on these custom macaron boxes. By using these macaron boxes, bakeries can come up with different pack sizes so they can deliver more options to customers. Bakeries can die-cut these macaron boxes into different sizes to make the packaging of different sizes. With the help of different size packaging, bakeries can bring more options for customers such as; a pack of 6 macarons, a pack of 12 macarons, a 1kg pack of macarons, etc. This approach of bakeries give different options to customers to choose from and they can choose according to their requirement or budget.
Impressive Quality
The quality of macarons packaging is also very important and it can also be used for marketing purposes too. If the packaging quality is good, more customers will try macarons and if they like the macarons, they are going to become regular customers. So the quality of the macarons works along with the delicious taste of macaron. For the first time quality of packaging can attract customers but the taste is also important. To deliver impressive quality packaging, bakeries use these macaron boxes as they are fully customizable and allow the bakeries to customize them in every possible way. Bakeries can customize the material, printing quality, and even finishing quality of these macaron boxes to deliver an impressive experience. Impressive quality can upscale the customer experience and can act as a unique marketing tactic to gain customers' attention at a glance.
Customer Experience
The actual customer also acts as a marketing tactic. If a customer receives an amazing experience from any specific bakery, that customer is going to tell other people and those people will become the regular customer of this specific bakery. That is why customer experience for every bakery is very important and bakeries make sure that they get the best treatment. When it comes to macarons, if the packaging is not good enough, over time macarons will become wet and soggy which can ruin the customer experience. Not a single customer is going to like wet and soggy macarons, it will also badly affect the image of the bakery. To avoid this, bakeries rely on these custom macaron boxes so they can deliver high-quality experiences to their customers. The material of these macaron boxes is designed in such a way that it protects the macarons from getting wet and soggy which upscale the customer experience.
Positive Brand Image
Brand image is the identity of the bakery in the market, if the image is bad, customers will likely ignore such bakeries and if the image is positive, customers are more likely to buy products from there. That is why it is important for every bakery to build a strong positive brand image and this is only possible by using these macaron boxes. Firstly, these macaron boxes are printable and secondly, these macaron boxes are made of 100% recycled material that is biodegradable and decompose over time. By using the printable feature of these macaron boxes, bakeries can print their name and logo on them and since these boxes help to decrease waste pollution, use of these boxes for macarons can help the bakeries to build a positive brand image in the market and among customers even in high competition.
Conclusion
Custom macaron boxes can help the bakeries to elevate sales through marketing as they have amazing and unique features. The startling features of macaron boxes help the bakeries in different ways such as; letting the bakeries design these boxes attractively, grow their social media accounts, bring boxes in different sizes, and also deliver impressive experiences to customers.
Recent Comments
---